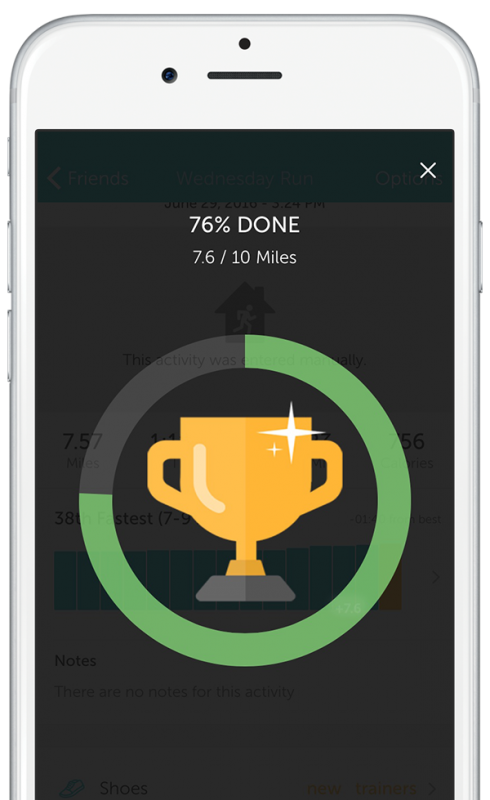 Track Your Fitness
2nd August 2017

By

Ailis Brosnan
I have used a number of fitness apps over the years and find the ones below work well. The one you go for will depend on how much detail you want to track (distance, speed, pace etc). It is worth checking them out and see what works best for you.  Research tells us when we record our activities it helps keep us motivated. I have definitely found this to be true and love been able to track my progress toward my goal.
Mapmyrun
I used to use mapmyrun on my phone and found it good. It does all the necessary bits like tracking your activity and allowing data to be imported from third-party devices. Like many apps it uses your built-in GPS on your phone and tracks distance, speed, pace, duration, elevation, calories burned and route traveled.
There is also an interactive map and share your route publicly or do a search for routes in your area. I have found this feature helpful when on holiday and wanting to discover good routes locally.
The also have a similar app for cycling (mapmyride), fitness (mapmyfitness), walking (mapmywalk) and hiking (mapmyhike)
http://www.mapmyrun.com/
Couch to 5km
A very popular app to help beginner runners move from complete beginner to completing 5km. It is a very user friendly app but is only useful if a 5km is your goal as they aim is to guide you through a series of workouts 3 days a week for 9 weeks. You can log and share your workouts and track your distance and pace with GPS. You can also input data manually if using a treadmill. You can select a virtual coach and sync with your own music too.
The best app if a 5km is your goal but beyond that you will need to look at the other options.
www.c25kfree.com
Runkeeper
Runkeeper is a very popular running app with over 50 million users so they must be doing something right! Again it uses your phone's GPS to track activity and record your data. You can set goals and see your progress against them or download plans. To help with motivation they also have challenges, virtual races and an option to share progress.
Their premium option gives you more indepth analysis of your history and progress. It also integrates with spotify and itunes if you like to run along to your favourite songs! Although it is mostly used by runners, it can also be used to track walks, hikes and other activities too.
https://runkeeper.com/
Strava
Strava is very much about community so if you are into sharing your workouts and seeing what others do then check it out. You can compare your performance with others along with stories and photos. There is a leaderboard if you like a bit of friendly competition.
It does all the standard stuff too like speed, pace, distance, elevation and calories burned, along with an interactive map. One feature that is really cool is the 'beacon' feature, which allows others (thinking hubby in case I have a flat tyre!) to track your location while active. The premium option allows you to integrate your heart rate monitor or power meter into your uploaded activities.
https://www.strava.com/
Training peaks
This is my all time favourite way to track my fitness – it is the all singing and dancing version of the others. After using this I don't think I could go back to using any other one now. It spouts out all kinds of data and to be honest I don't need (or have interest in) half of it. What I love though is that it syncs with my garmin watch so there is no manual uploading of data (unless I forget my watch of course!). It actually uploads workouts from 100+ devices and mobile apps.
It tracks my hours for the week, what activities they were spent on, weekly distances, heart rate zones etc. My favourite aspect is the 'Fitness Ramp Rates' which are charts that show you how your fitness is rising (or declining!). I am quite visual so love having a chart that tracks my progress.
There are both free and premium versions (annual subscription) for training peaks and the paid version allows you to plan future workouts, sync your calendar, analyze fitness trends and more. If you have a coach they can upload your training sessions and comment or if you want you can download training plans from training peaks.
https://www.trainingpeaks.com/