Staying healthy and strong during the Coronavirus
14th March 2020

By

Ailis Brosnan
The coronavirus has really taken us to an unknown place of new emotions and circumstances. It has really highlighted the importance of self-responsibility for our own health and self-care and the impact our actions can have on others.
I wanted to share some of the things that I am doing to stay healthy and strong during this unprecedented time in the hope it might help.
It is so important to keep our immune systems strong so eat lots of fruit and veg which are packed with vitamins, minerals and immune boosting goodness. At a time when you may not have access to lots of fresh fruit and veg, frozen is good too. You can either freeze your fresh fruit and veg or buy frozen. Some good immune boosting foods include citrus fruits (oranges, grapefruits, lemons, limes etc.); red bell peppers, garlic, broccoli, ginger and green leafy veg. But all fruit and veg will be beneficial for boosting your health.  I have been juicing a lot too to get an infusion of vitamins and minerals. Green smoothies are great too and you can download some free recipes here. If you are preparing for a potential lockdown, some good basics to have at home are brown rice and lentils, dry or tinned beans, wholewheat pasta, porridge oats (or quinoa or millet flakes for a change), plant-based milks (luckily they last a long time!), tins of chopped tomatoes and bouillon powder. You can do a lot with that.  To plan for not having as much access to green leafys, I am freezing spinach and kale and also making pesto with parsley and basil and freezing those.
We all know exercise keeps us fit and healthy so it is important to keep this up as best you can. Lots of classes and gyms have been closed but the trails and roads are still open (for now!) so as much as you can get outdoors (ideally in nature).  We all really need the endorphin hit from exercise at this time – I had a fab early morning run in the trails today and felt so good after it, it's a chance to really switch off from it all.  It is particularly important to get outdoors, especially when we are going to be at home most of the rest of the time trying to socially distance ourselves (and if you are not already please do!). If you can't get out then make sure you exercise daily at home. Here is a link to my Be-STRONG home-based program if you want to give that a go – it is an 8 week home-based program that will help you stay fit and healthy and come out of this period even stronger!
Ok, even if you don't want to exercise much, still get out to even sit in nature and absorb its beauty and energy, it really is nourishing and reenergizing. Worst case, if we go into lock-down and can't get out, remember benefits have also been reported from even watching nature scenes on screens – ideally the real thing is best but just in case. I am making the most of the trails and beaches for now while I still can.
During sleep our bodies actively fight infection (it is thought that cytokines are released during sleep which help fight infection by regulating our immune systems.) A study in the Archives of Internal Medicine found that people who slept a minimum of 8 hours a night over a two week period showed a greater resistance to a flu virus than those who slept seven hours or less.  A lot of people (me included!) are spending more time on social media at this time so be careful that doesn't run into the early hours of the morning.  Also when you are well rested you are much better able to cope with stress so it makes sense all around.
Although many people have been stockpiling beer as much as toilet paper (!) it might not be the best thing. Drinking alcohol can suppress our immune system. A glass or two can help us relax and unwind which is no harm but excessive drinking can damage the body's dendritic cells, an important component of the immune system.
It is hard not to get swept up into the drama in the media and get caught up in the fear frenzy. Yes, there is of unknowns and many people are concerned. Getting overly stressed though will just release more cortisol which lowers our immune system, obviously the opposite effect than we want. Meditation is a great help with this so if it something you haven't tried yet then now is a good time to start.  Starting each day with some meditation gets you off to a positive start.  If you are new to meditation there are lots of apps out there to help you get started such as headspace and calm.  You might want to limit news and social media too if that is getting you down, it is good to stay updated for sure.  I very rarely watch or listen to the news but I have been watching the 9 o clock news every evening to stay updated but I have limited it to that.
What about social distance I hear you say! However, we can stay in touch in other ways. We can check in with friends or family, using skype or zoom, phone, messages, online forums, messanger, whats app etc. It is important not to feel isolated – we all need that extra bit of support at this time. I have reached out to lots of friends and have been heartened to hear from people I haven't heard from in a while.  I personally (as a hugger!) am missing human connection already so really have to make an effort to reach out in other ways.
Yes, not a funny time I know but it is important to seek out things that make you laugh. Laughter boosts our immunity and is so important, especially now. Perhaps comedies, funny you tube videos, share funny clips or jokes with friends. Now that we can't shake hands or hugs, we can still smile and that is a contagion we want to spread! There are so many funny memes and clips going around on social media at the moment – if there are ones that make you laugh, share them on.
Being grateful for all I do have – my friends, family, food, home etc. etc. Focusing on the positive is always a wonderful way to keep grounded and out of the victim mode that we can so easily fall into. Thinking about how we can help others too – it's a great time to do Random Acts of Kindness and it takes our focus away from our fears and what we can't control to what we can.  Starting and ending each day is a wonderful practice to help keep you grounded.
Within the limits we have now, still try to do what brings you joy. I love listening to live music so have to adapt to being happy with music at home and enjoying great videos of live music online. I love gardening but rarely have the time so have started on that, I will probably get to read a few extra books and catch up on a few movies or projects around the house. I've been busy in the kitchen too which I enjoy and getting creative with the kids. Good time for a bit of decluttering too! See the positives in having more time to indulge in some of the things  you often wished you had more time for.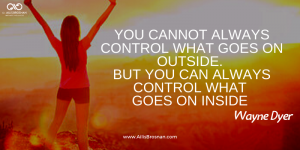 All the above I can control so it's what I focus on. I can't control who goes to Cheltenham, who washes their hands, who is still going to pubs or cafes, who doesn't self-isolate when they should, what measures the government take. So there is no point in giving energy to any of that. Worry will only lower my immune system so why feed that? We are resilient and stronger than we think. If we support each other and come together we will get through this.
There are so many uplifting stories coming from this already and those are what I choose to focus on and share.  I'll leave you with the poem below which for me, sums up a wonderful way to look at this situation.
If you every need to chat or message please do, in the meantime, stay home and stay safe!
Ailis
"And the people stayed home. And read books, and listened, and rested, and exercised, and made art, and played games, and learned new ways of being, and were still. And listened more deeply. Some meditated, some prayed, some danced. Some met their shadows. And the people began to think differently.

And the people healed. And, in the absence of people living in ignorant, dangerous, mindless, and heartless ways, the earth began to heal.

And when the danger passed, and the people joined together again, they grieved their losses, and made new choices, and dreamed new images, and created new ways to live and heal the earth fully, as they had been healed."

Kitty O'Meara
---
Here are a few resources to help you stay safe:
Above all follow the WHO advice, re social distancing and personal hygiene including hand washing, sanitizing, cough, sneezing etiquette
A measured and practical interview with Dr. Paddy Mallon which I found helpful in relation to the best approach for us to take to deal with this situation