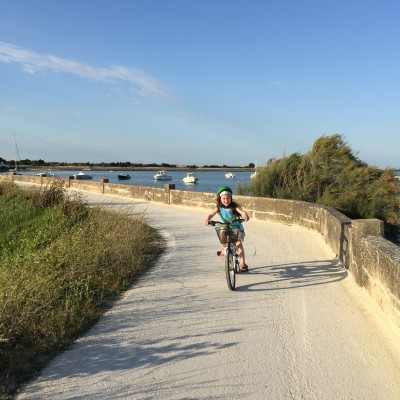 Tips for staying healthy on holiday
20th July 2016

By

Ailis Brosnan
Holidays are generally great for our mental well-being, it is so refreshing to get a break from the daily routine and have quality time with a partner or family. As we often associate holidays with letting-go of many aspects of our typical day, it is all too easy to 'let-go' of our health habits too. I know from my 1-1 clients and online participants that all can be going well up to a holiday (and the build-up can be a great motivator to stay healthy and lose weight) but once they go on holiday, everything seems to fall apart.
If this sounds like you, have a read on for a few simple but effective tips that can help you overcome this and start to rethink how you approach holidays. For me now, holidays are actually a great opportunity to get even healthier as you have the time and weather (!) to be more active and cook more healthy meals.
Check out your food options
Before you go it is worth checking what restaurants, markets, supermarkets or health food stores are nearby. For many restaurants you can check menus in advance and choose where you can get healthy options. If you are veggie or vegan, I find Happycow.com a great resource for finding out what's nearby but trip advisor also do some good restaurant reviews.
Consider self-catering
For anything longer than a three to four night stay, I like to go self-catering as you have a lot more control and choice over what you eat. Particularly with kids I find this a more affordable option too. You can still eat out but you don't have to for every meal and snacks are on hand when you need them. On our recent camping holiday we had a BBQ there so used that most nights to BBQ the fresh veggies we got at the local markets.

If I am in a hotel, I always check to make sure they have a mini-fridge and I empty it of all the drinks (unopened I assure you!) so I can use the fridge for fruit, salads, milks etc.
Fit your exercise in early
Plan your exercise the night before – depending on your plans for the day, try to fit your exercise in first thing in the morning. As others sleep on it is a great time to get up and get out and get your exercise in before other distractions of the day will make it more difficult for you. If like me you have kids, then holiday time is great if you have a partner or family around that aren't rushing out to work. It means you can get up and get out every morning without having to worry about childcare. So, for me I take advantage of this and holiday time always means extra time for workouts!
Also if you are on a city-break, an early morning walk/jog around the city is a great way to see it before the streets get busy and crowded. Buggies are free to bring on airlines so we always bring the jogging buggy with us!
Watch your fluids
Assuming like me that you go somewhere hot and sunny for your holidays (I haven't been on a skiing holiday since I move back to Ireland as I always need the sunshine!) then be careful about the drinks you consume. Unless it is water, then more than likely it is empty sugar laden calories. Over-indulgence in alcohol can also lead to poor food choices. So, yes, go ahead and enjoy the local rose or whatever it may be, but be mindful of the quantity!
Get active with the family
Ideally, choose holidays where there are lots of options to be active with the family. Bring a ball to the beach, hire pedalos, rent a boogie board, go kayaking, hiking, cycling…the list is endless. This is usually one of the first things I think about when choosing a holiday destination – what fun activities can we do there? For our recent camping trip to France, we chose Ile de Re as there are 60 miles of bike trails there. We didn't hire a car so biked everywhere. There are lots holiday agents like Crystal Active that specialize in active holidays for families, so worth having a look or else just make your standard holiday as active as you can.
Hopefully, some of these ideas will help you with your next holiday.   Holidays can be fun, refreshing and reenergizing without throwing you completely off-track. It's just about creating a different mindset and looking at them as opportunities to be even healthier!